Hanno Bertignoll works as Project and Marketing Manager at the RIC Leoben. His activities include coordination, application and development of EIT RM projects, as well as projects covering other raw material relevant topics. Hanno is a graduated mining engineer from Montanuniversität Leoben. He has long-time industry experience, working in various roles in business development, sales and marketing for a mining equipment supplier and a recycling equipment manufacturer in Austria.
Susanne Feiel is head of the Resource Innovation Center at Montanuniversität Leoben in Austria. It is the leading network and central hub for the development of new and sustainable education, research and innovation formats in the circular resource sector and their vertical integration into the university, Austrian partner landscape, industry and society. This includes technological, ecological, economic, social and policy relevant aspects.  The RIC houses MUL's participation in the EIT RawMaterials, the EIT Climate-KIC, its SDG and sustainability measures and serves as a platform for the interdisciplinary linking of the institution's internal expertise for integration into large-scale projects.  In parallel to this activity, she continues to exercise her function as head of the international department of the University, which also includes the new International Competence Centre for Mining-Engineering Education under the auspices of UNESCO, which was opened in December 2019 and is operated jointly with the St. Petersburg Mining University. Despite her manifold functions, she has always been passionately committed to her work and the symbiotic development of the several fields. Susanne's vision is a comprehensive internationalization of her institution through long-term, stable and qualitatively strong partnerships with other universities. In the RIC, education, awareness and the creation of visibility for the resource sector has become a priority area, as has the integration of the university's resource activities into initiatives for sustainable development, recycling and climate protection in order to promote the development of responsible resource consumption and production. This has recently lead to the successful acquisition of a European University with the same focus. Susanne is actively involved in networking in various relevant stakeholder groups, for example as a sherpa in the High Level Steering Group of the European Innovation Partnership for Raw Materials or in the institutional panel for sustainable development. Currently, she is writing a PhD thesis on the responsible production cycle of materials in the light of SDG12 and numerous sustainability theories. She is developing an evaluation scheme based on ecological limits, which will be tested using the example of aluminum.
Krzysztof Kubacki is the Eastern Innovation Hub Director at EIT RawMaterials. EIT RawMaterials is the largest consortium of Partners from the raw materials sector represented by over 120 companies, universities and research institutes from over 20 EU countries. In his capacity Krzysztof oversees the Eastern and Southeastern part of Europe with 30 Partners coming from 9 different countries. EIT RawMaterials and its Partners work on innovation, education and business creation in the raw materials sector. With a background in exploration and business development in the base metals mining industry Krzysztof was previously with KGHM Group, one of the largest copper and silver miners globally. He was working in Europe, North and South America, and most recently held the position of Vice President of Exploration and Business Development for KGHM International. Krzysztof holds a MSc degree in International Economic Relations from the University of Poznań, Poland and is a graduate of Executive Academy at IMD, Lausanne, Switzerland and Colorado School of Mines, USA.
Anna Meyer works as research & project manager at the Resources Innovation Center Leoben at Montanuniversität Leoben since 2017. Her work is set in the context of the EIT RawMaterials and thus she develops projects as well as manages the Center's outreach into East and Southeast Europe. In this respect she is the head organizator of the ESEE Dialogue Conferences, which have been developed and executed by the EIT RawMaterials Center since 2014. Moreover, she is Leobens representative in the EIT RawMaterials Easter CLC Education Working Group. Additionally, Ms Meyer is also involved in the Center's contribution to sustainable development and sustainablility at the university. In this position she is the university representative in the Alliance of Sustainable Universities Austria. Prior to her work in Leoben she worked as a language teacher and in an administative position at a language school in Bristol (GB). Since 2017 she is a board member of the NGO Südwind Steiermark, with the aim to narrow the gap between the global north and south. She holds a Master in English and American Studies and her research interests are: sustainable raw materials, communication and discourse analysis in the context of raw material production, sustainbility at universities.
Ledi Moisiu works as Lecturer  at the Engeeniering of Natural Resources at FGM – UPT Tirana. The main topics of her lecturers are related to recycling in general and recycling in the mining mining industry and also principles of  Industrial Ecology.
She has worked for 22 years at the Albanian Geological Survey.Her work has been related to mapping, development and implementations of GIS on different fields of geology and geodatabases. She has given her contribution on the suistabinility of raw materials and the standartisation of the geological data according to the INSPIRE model.
She is contributing to internatinal projects as local coordinator for implementing the projects granted by different Programs of the EU. She is responsible for SNAP-SE Project; SARMa Project; SEE-RIVER; RESEERVE DIM ESSE 2.0. She has supported organizations of international and national event. She is author or co-author  of many scientific papers
Univ.-Prof. Dipl.-Ing. Dr.mont. Peter Moser is actively involved in positioning and supporting RIC Leoben and EIT Raw Materials activities of RIC at a strategic level through networking in relevant committees and circles. He is further an irreplaceable support through his great project-ideas as well as their initiation. He completed his MSc in Mining Engineering with a specialisation in Tunnelling in 1983 and his PhD in Mining in 1989. Since 2006 he is the Head of Department of Mineral Resources & Petroleum Engineering and holds the Chair of Mining Engineering & Mineral Economics.  In 2011 he was appointed Vice Rector, responsible for International Affairs and University infrastructure. He has written around 100 scientific papers in the field of Drilling & Blasting, Mine Development, Underground Mining, Rock Mechanics & Rock Cutting, Ventilation and Mineral Policy issues. He is a certified expert and works as consulter for the mining industry. Through his very active involvement in the European Raw Materials landscape, such as his involvement in the European Innovation Partnership on Raw Materials High Level Steering Group or his role as steering committee member in the EIT RawMaterials Community, his research and devotion currently revolve around the societal challenges regarding a sustainable raw materials supply of Europe and the globe.
Andreas Oberrauner completed his studies in mining engineering and a PhD in mineral processing in 2012. He is a passionate expert in combining solid expert knowledge in UAV applications with cutting edge approaches to create smart solutions such as drone-based inspection and mapping services for challenging mining environments. He is currently working for Geoconsult ZT GmbH as a Senior Mining Engineer and Business Development Manager.
Manuel Ortega joined RIC Leoben in January 2019. On a full-time basis, he successfully manages the MiReBooks project, "Mixed Reality Handbooks for Mining Education", which is a 14 partner pan-European education project, with a budget of 3 Mio EUR. The project is funded by EIT RawMaterials Academy and tackles current needs and gaps in mining education regarding digitalisation of contents and concepts. (You can find more details on the project in the section "EIT Regional Center Leoben".) Manuel obtained an MSc in mining engineering from León Mining University, Spain. After graduating from university he worked in the oil and gas service industry for many years. He opted for his current job because he felt like it was time to return to his mining roots.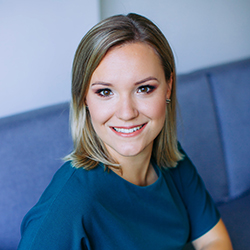 Agata Poczmańska is the Education Officer at EIT RawMaterials (Innovation Hub East). 
She has a strong educational background gained through her professional experience at the Educational Research Institute in Warsaw. She was involved in developing and implementing the Integrated Qualifications System in Poland, especially learning outcomes approach and market qualifications.  She was also a member of the Polish Experts Team for ECVET – European Credit System for Vocational Education and Training. As an expert, chief researcher and manager, she carried out numerous national and international projects in her fields of specialization including qualifications systems, vocational education and training as well as lifelong learning. While cooperating with Cedefop (European Centre for the Development of Vocational Training), an EU agency based in Greece, she was analyzing international qualifications. 
In recent years, Agata Poczmańska was a Head of the Project Development Unit at the Educational Research Institute where she was responsible for the development of new projects funded from various sources, including EU funds, as well as national and international partnerships with public and private entities.